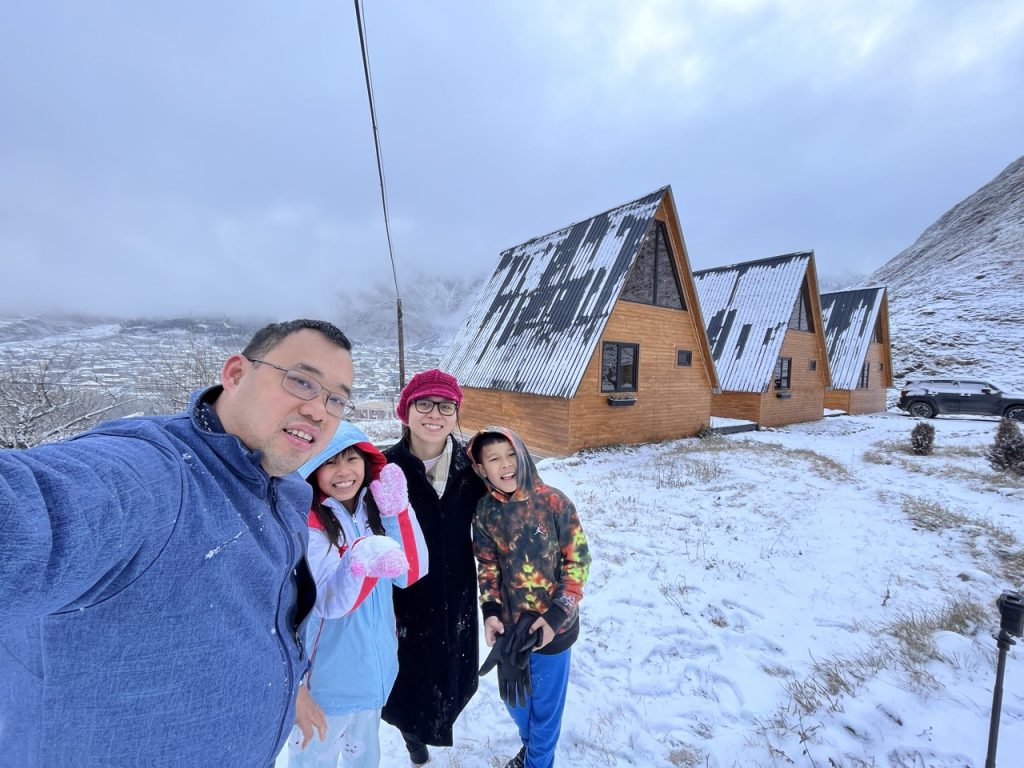 Winter is usually very harsh and cold , so we hardly plan any winter holiday in Europe. First, I don't do well in cold, the only thing I love to do in winter is snuggle at home with a cup of hot chocolate. Secondly, the daytime is really short in winter and it gets dark by 3.30-4pm, with the shops closing early, it doesn't seems like there is enough time to wander around. Lastly, in where we stay Dubai, winter is really like the best weather, sunny and cooling so it is really a nice place to spend the winter.
This year, we decided to spend our winter break in Georgia. Yes, the place where in winter, it snows really heavily in the mountain area and super cold! The one and main reason we decide to venture out of our comfort zone is to do skiing in the mountain or rather to let the kids learn skiing. Skiing in Georgia is relatively cheaper than most places in Europe so we think it will be a good start for us amateur skier to get it started here. Plus, we found out that the daytime in Georgia in winter is pretty decent. The sun rises at 8.30am and it only gets dark by 5.30pm and that gives us enough time to explore this beautiful country.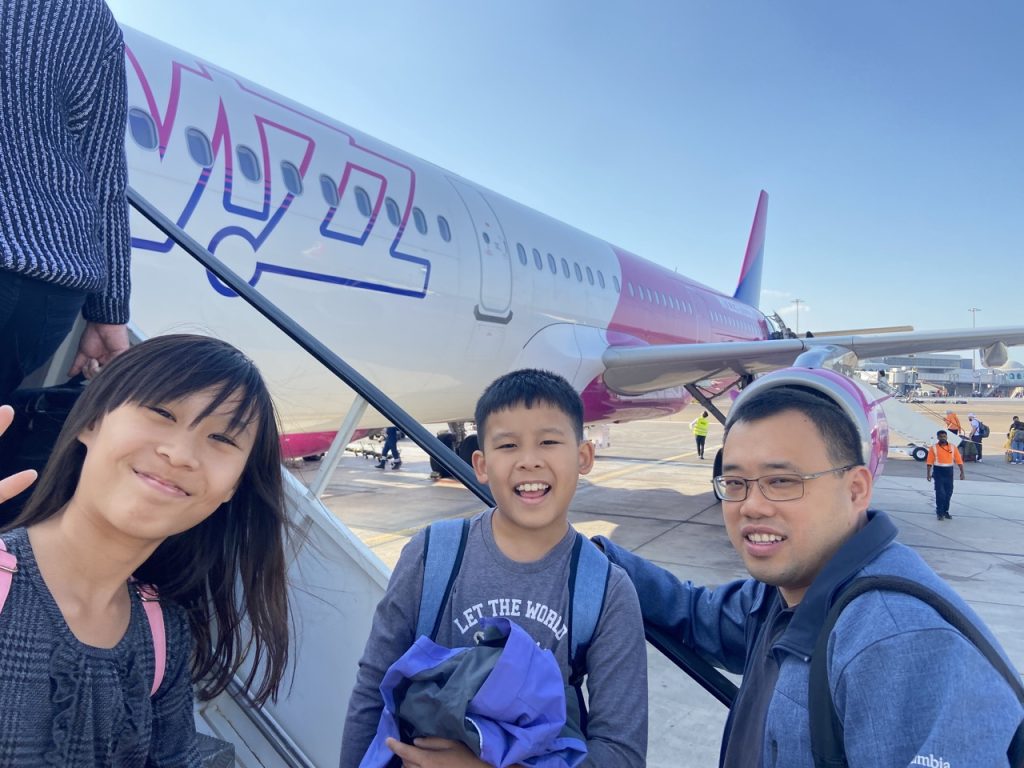 As there is not much airline flying to Georgia, we decided to explore Wizzair for the first time. Although it is not so straightforward, as we needed to fly from Abu Dhabi and touch down in Kutaisi rather than Tblisi. Price wise, it is definitely cheaper than taking FlyDubai who has the option of touching down in Tbilisi.
Our experience with WizzAir has been a pleasant one. Although they change the flight timing couple of weeks before the flight, the change has been for a better timing. Check in is effortless and easy and the flight is quite smooth, relatively comfortable seat.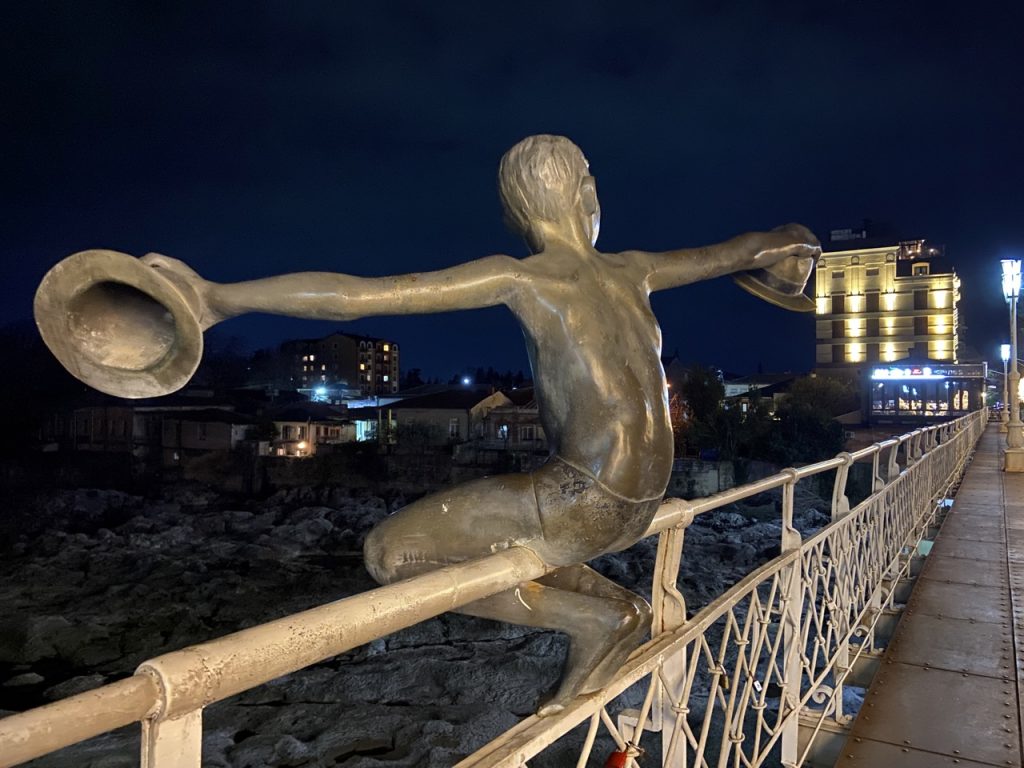 Touching down in Kutaisi at 7.30pm, we checked out by 8.30pm and got in our transport that brings us to the city centre 30 mins away from the airport. Nino's cosy home which I booked over on booking.com is a really nice homestay, pretty central with everything we needed in the 82 metres square house.
Our first dinner is nonetheless the most signature khinkali at El depot , open 24/7. Passing by the iconic White Bridge, the city lights light our way.
The next morning, we slept in and explore the town, while getting some chores done (bought SIM card, cash from Revolut). We also visited the Colchis Fountain, Bagrati Cathedral and ah boy got his McD fix at a large Mcd decorated very Christmas-y. For dinner, we visited Lilestan, a really cosy restaurant playing Christmas music all night, decorated in fresh pine tree. Not forgetting FIFA, we watched the exciting match between Argentina and Croatia.
Contrary to many information, there is quite a huge number of establishment including restaurant, shops, that accept credit card. We are quite surprised that a lot of money exchange doesn't accept UAE so its better to change before coming. Although most restaurant take credit card, all the accommodation we booked on booking.com all requested for cash upon arrival. On top of that, we paid cash for our car rental as well (credit card payment need extra 3%)
Our next leg of journey is visiting the capital of Georgia, Tbilisi. The journey was not easy as the road connecting Kutaisi to Tbilisi is not fully highway. There are lots of truck along the way and traffic is not pleasant. After 3.5 hours we reached Tbilisi and its such a pretty capital. Its surprisingly pleasant, we try the sulphur bath which is so good especially in this weather, had hearty Chikhritma (chicken soup), kharco (meat soup) , took the cable car up to Narikala Fortress, catch a glimpse of Mother of Georgia, hike up to The Trinity Church and visited their Christmas Market.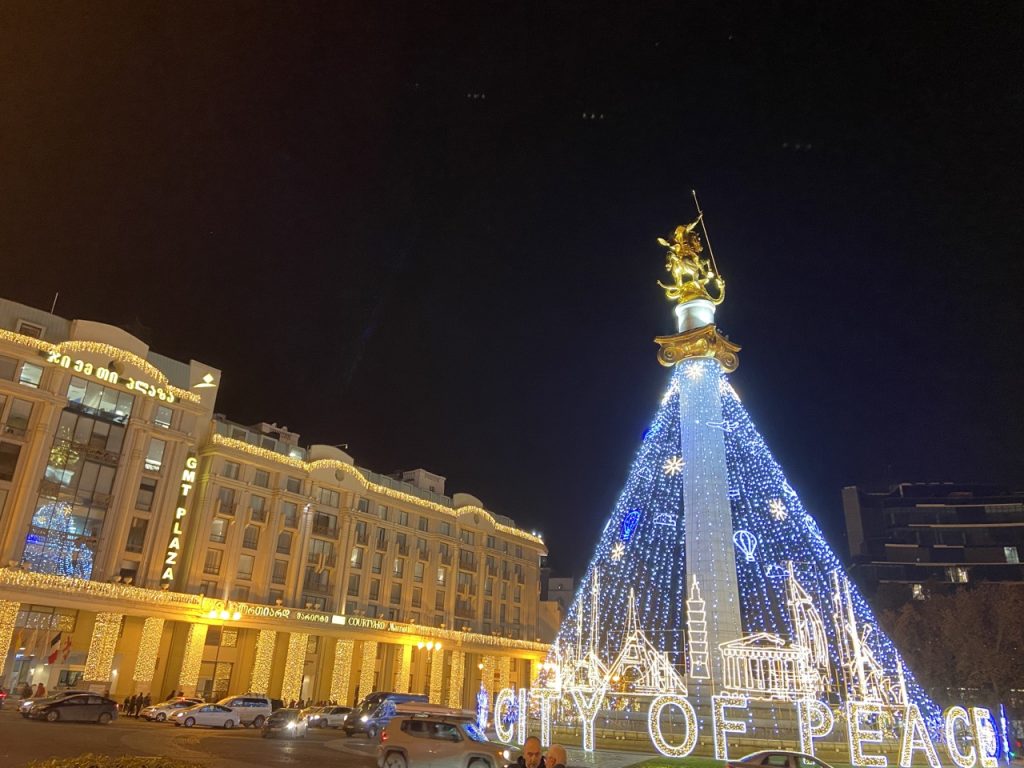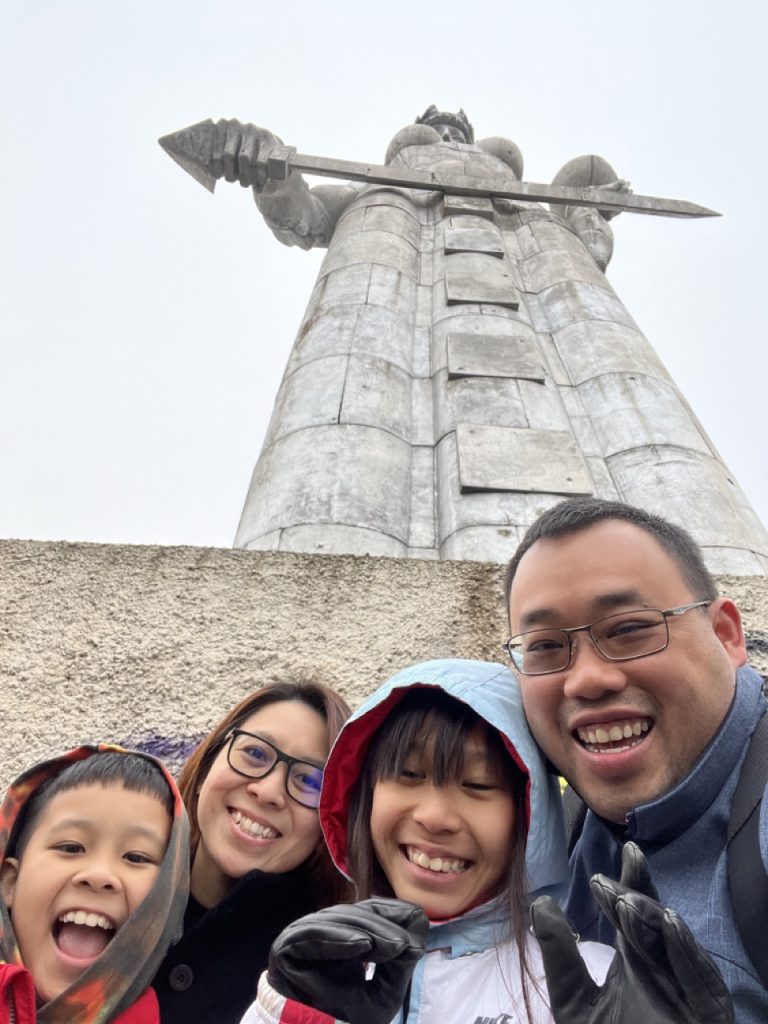 We even make a day trip out to their wine region Kakheti , did some wine tasting and climb the Great Wall of Georgia. On the final night, we went for Thai massage at Good Time Thai Massage and had an amazing time.
Next morning, we packed up and head to Mtskheta , the royal capital of Georgia. It used to be the capital of Georgia before the capital moved to Tbilisi. Now Mtskheta is listed as one of the UNESCO World Heritage Site. There is a lot of churches, monastery and history in the quaint scenic town. We first check out the Jvari Monastery followed by Svetitskhoveli Cathedral. Jvari Monastery, nestled on the top of the mountain, had amazing amazing view of town of Mtskheta, with two rivers converged. Svetititskhoveli, on the other hand, is in the town centre and it's very pleasant to walk around. Both doesn't require an entrance fees, though in the Mtskheta town, one would need to pay GEL 3 for parking.
Afterwards, we headed all the way to Kazbegi which took us another 2.5 hours on the Georgian Military Highway but please do not think one could drive smoothly up. We encountered so many trucks on the road especially nearer to Kazbegi as the trucks are heading to Georgia-Russia border.
We passed by so so many snow capped mountain and the view is absolutely fantastic. We finally reach our cute wooden house where we will be staying here for 3 nights.
The next morning, we decided to hike to Gergeti Church in -2 degree Celcius. Yes, you heard me right! Hiking in the cold, it is definitely the first for us. We wrap ourselves up in 4 layers of clothing and venture out. The trail starts from Cafe Gergeti, there is a flat trail besides the stream and a steep trail heading right up. We followed the flat trail, it is not very hard but really long and we did not end up reaching the top. On our way back, we saw a group of tourist coming down from the steep path. They took the Delica Car up (you can take them from the town as private car is not allowed up the church) and then hike down , that might be a better way especially in the cold.
For lunch, definitely go for the restaurant at Rooms Hotel Kazbegi, this is definitely the best value food with amazing amazing view of the town, Caucasus mountain, and the Gergeti Church. The food is really tasty, menu is a selection of local and international. We particularly like their Green tea, steak is great too, Mac n Cheese is very yummy as well. They also have some today's special which the waiter recommended and we enjoyed them as well. We spend the evening at home and to our surprise, it started snowing! OMG, we were very pleasantly surprise and of course we went out and played with the snow. It snowed the whole night and the next morning, the whole town turned white. It was such a fantastic sight.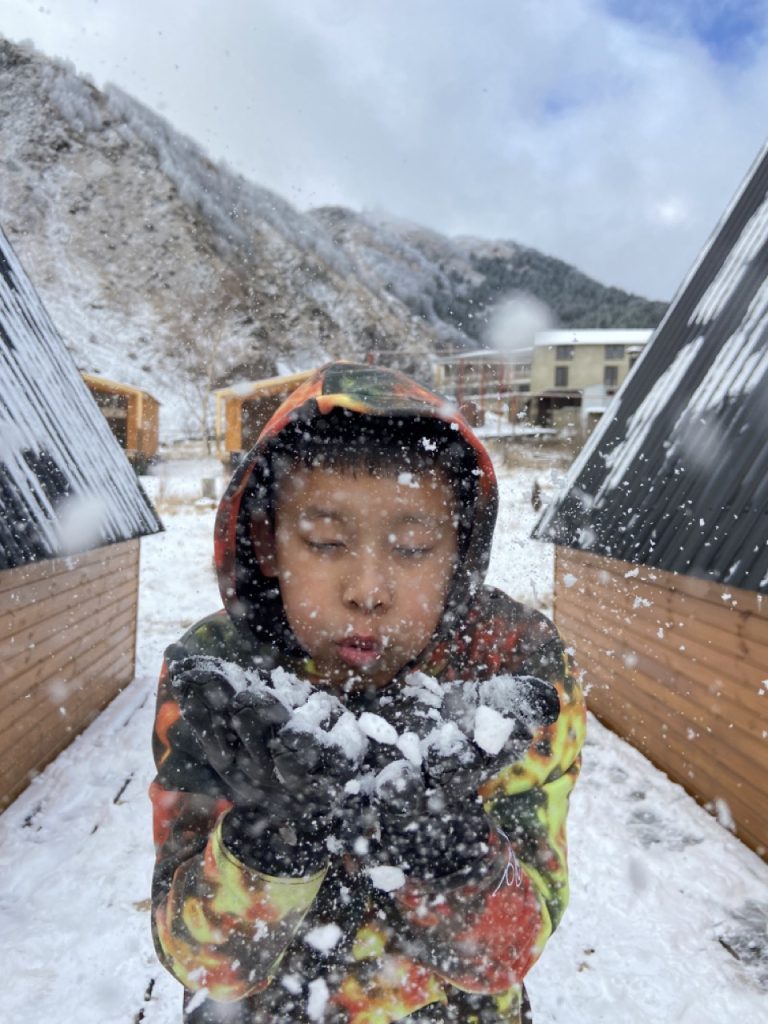 Of course, we spend the next day building snowman, having snowball fight and just chilling at home.
Our next stop is Gudauri Ski area where we were hoping to enrol the kids in ski classes. Unfortunately this year winter came late and it did not snow enough for the ski slope to be operational. We did see the ski lifts moving but I guess it is just test drive. We ended up exploring the area and chance upon some frozen stream and frozen river. Had so much fun sliding down them.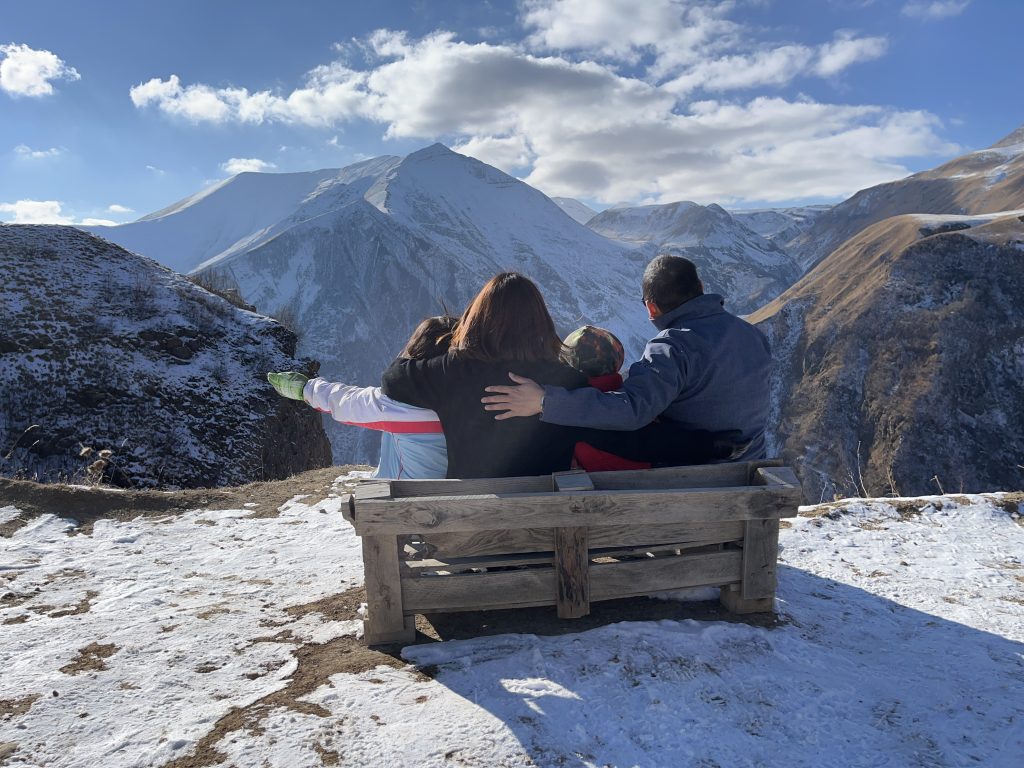 Also, do not miss the Russian Georgian Monument area. Even if you are not interested in the monument, the view there is out of the world. There is also some activities to do for example: horse riding, ATV and even a car ride out to check out area nearby with frozen lake, with thick snow.
Even though the main ski slope is not open, there is one small patch of slope which we can do our own skiing. We rented the ski essentials (GEL 50 for one day) and did our own skiing. Without the ski lift, it's much more tiring as we need to climb up and ski down. We spend around 2 hours skiing and then head for dinner at Pasanauri. The food prices in Gudauri is on the higher end (as compared to many town in Georgia), it costs GEL 42 for a burger for example. I would definitely recommend Pasaunari if you are in Gudauri. They serve very nice Georgian cuisine at a very reasonable price, definitely do their kharco (it's so so good especially in the cold weather),claypot mushroom is great as well and salad is very refreshing.
As there is no snow, we cut short our trip and head back to a small town 30 mins away from Kutaisi airport to relax and spend our Christmas Day admiring the vineyard countryside view. The weather is also much milder in Kutaisi (around 3-7 degree as compared to Gudauri which is in the negative side of the mercury reading).
In conclusion, we definitely enjoyed our two weeks in Georgia. We are very surprised with their 3G/LTE signal throughout the country, even in the remote mountainous area, the signal is really strong and it only cost GEL 9 for a week (unlimited data). Heating in all the accommodation that we stayed was really good and we had no complain with the hot water supply for the shower. One thing to take note is that it is really dry in the mountain area so good lotion and hydration is very important. The people in Georgia are generally very nice, although a few of them doesn't really speak much English. Credit card is widely used in restaurants and groceries store. Do bring cash for accommodation and car rental as they prefer cash.
TIPS: If you are coming in winter, do waterproof your sneakers/shoes using this waterproof spray. Instead of getting a pair of waterproof hiking shoes, this proves to be a great saving. It really helps and one bottle can spray up to 4 pairs of shoes.
Useful links:
Flight from Abu Dhabi to Kutaisi :https://wizzair.com/#/
SIM card package (we used both of these provider and their coverage is great in the places we visited):
Bee Line: https://beeline.ge/en/interneti#30days
Our accommodation:
Car rental (paid cash or credit card incurred extra 3%) : https://parent.ge