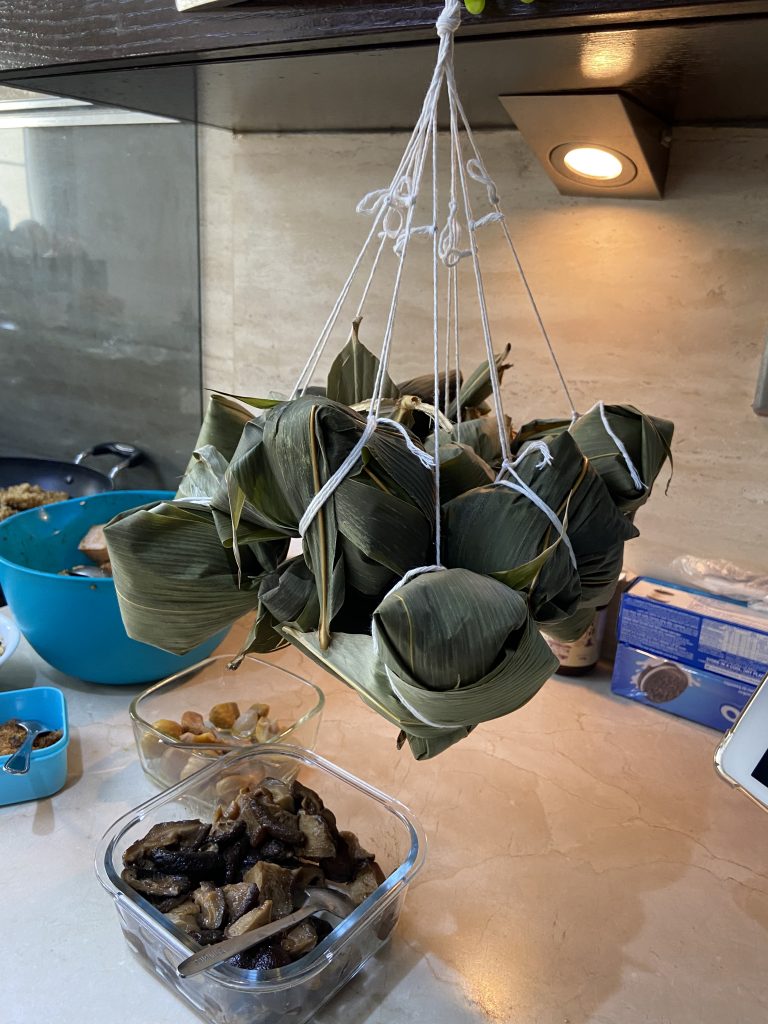 Ingredients (Makes 25 dumplings):
RICE
1. 1.5kg Glutinous rice (soak overnight, sieve to remove water)
2. Shallot fry in oil
3. 1/2 soup spoon of white sugar
4. 1/2 soup spoon of white pepper
5. 1/2 soup spoon of coriander powder
6. 4 soup spoon of fish sauce
7. 5-6 soup spoon of mushroom water
8. 1 tbsp of dark soy sauce
9. 5 tbsp of soy sauce
WHAT TO DO : Soak rice overnight, sieve. In a frying pan, pan fried shallot in oil until fragrant then add rice and all the flavouring, fry the rice until dry.
PORK
1. 1kg 250g of pork
2. 1 tbsp of dark soy sauce
3. 4 tbsp of soy sauce
4. 1/2 tbsp of sesame oil
5. 1/2 tbsp of white sugar
6. 1/2 cloves of garlic, minced
7. 1/2 teaspoon of five spice powder
WHAT TO DO: Marinate overnight
MUSHROOM
1. 20 pieces of mushroom, wash and soak until soft (keep the mushroom water)
2. 1 tsp of fish sauce
3. 1 cup of mushroom water
4. 1 tsp of white sugar
5. a dash of white pepper
6. 3 tbsp of oyster sauce
WHAT TO DO: Soak mushroom until soft, then add the flavourings and fry until dry.
DRIED SHRIMPS
1. 2/3 cup of dried shrimps, soak and blend
2. Shallot, garlic, dried chilli, soak until soft– blend all together
3. A stalk of lemon grass
WHAT TO DO: In a pot, stir fry blended shallot, garlic, chilli with the lemon grass until fragrant. Remove the lemon grass and add dried shrimps. Fry until fragrant.
CHESTNUT
1. 250g chestnut
2. 1 tbsp of white sugar
WHAT TO DO: Wash and boil in water for 5 minutes, then switch off the heat and leave it in the pot for 10 minutes. Remove any red lines or impurities, then stir fry with sugar until sugar melted.
SALTED EGG YOLK
1. 12 chicken egg
2. 500g of salt
3. 4 cups of water
4. Large glass container with lid
WHAT TO DO: In a pot, add water and salt, cook until the salt melted and starts to crystallise, this shows that the salt water has reached saturation point. Remove pot from heat and let it cool down to room temperature. Wash the eggs and place them into the glass container. Slowly pour the salt water and salt crystals until all the eggs are submerged. Cover and keep in cool dark place for 3 weeks. Once ready, wash the eggs, dry them and place them in fridge.
BLACK EYE PEAS
1. black eye peas
WHAT TO DO: Soak overnight.
DUMPLING LEAVES
Wash and rinse in hot water to clean the leaves.
Follow this video as visual aid on how to wrap them:
https://www.youtube.com/watch?v=IOMzCNftkQE
WHEN READY, in a pot , boil water with salt and cook for 2 hours.
Tips: Move the dumpling up/down after 1 hour.
Once ready, drip dry and enjoy warm. or keep in freezer and steam when needed.