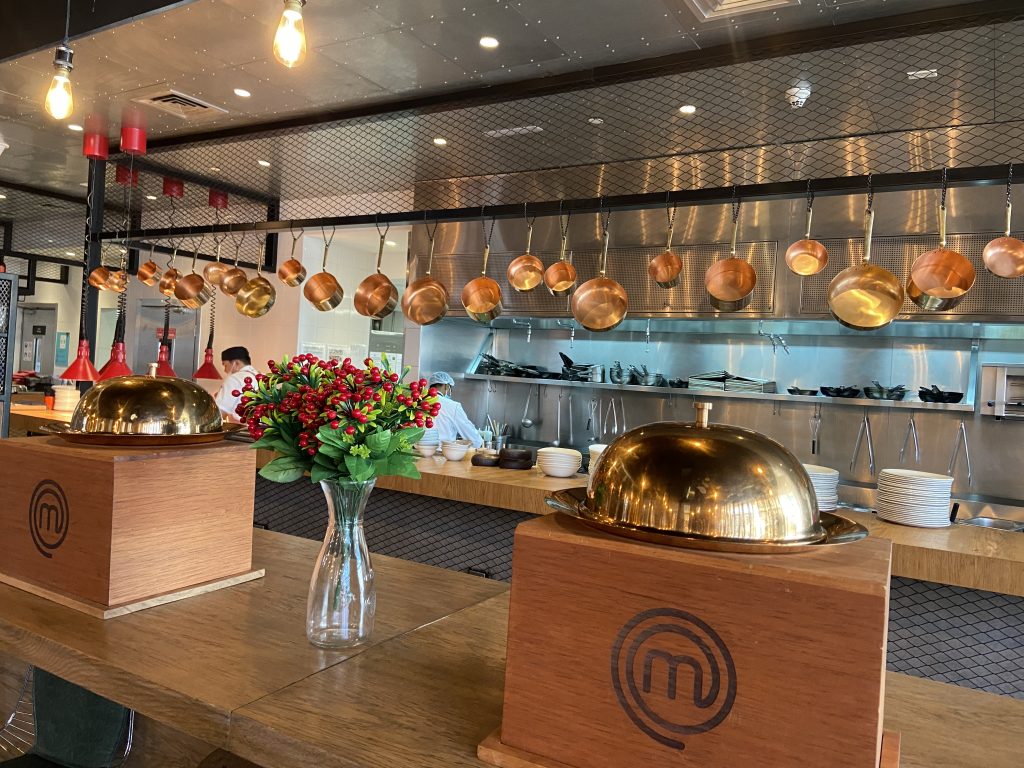 A couple of friends and me tried MasterChef Business Lunch menu and it exceeded our expectation. We went with an open mind and the flavour is really very interesting, definitely open up our mind on the limitless possibilities of food.
Located in Millennium Place Marina, this is the only restaurant in the hotel. Although the place is not big, it is very cosy and feature an open kitchen where we could see the chef at work. The staff greeted us warmly and show us to our seat. We were served tap water (which is really rare in Dubai) so that we could hydrate ourselves while looking at the menu to choose our food of the day. There is 3 of us and as Asian, we like trying different food so we ordered three different starter, main course and dessert to share. Their drinks menu are also reasonably priced with mocktails, tea and coffee priced between AED 20-30.
We started our meal with three amazing starter.
First starter: Grilled Figs, Halloumi & Roasted Hazelnut
This salad is very special, I can taste some flower-y and I am guessing it is jasmine. The figs are fresh and the nutty makes the salad crunchy.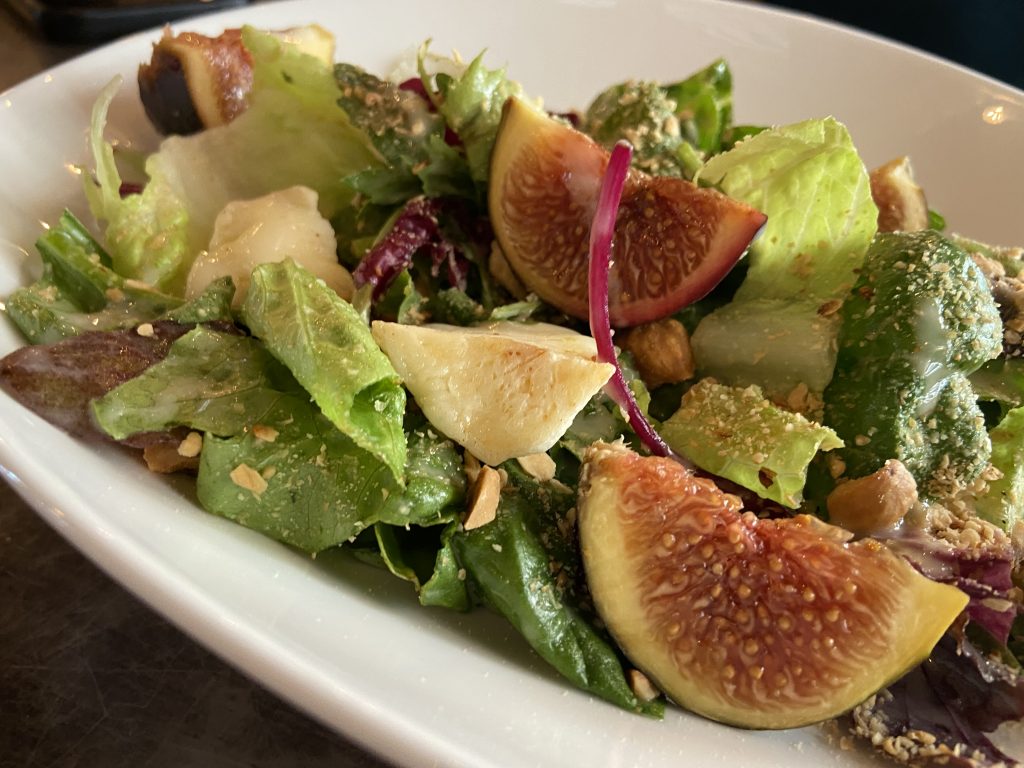 Second starter: Pink pepper spiced prawn
Smoked cauliflower, grilled prawn with brown butter sauce. What surprise us is the fried parsley on top which is very flavourful and crispy, add a different layer to tantalise our taste bud.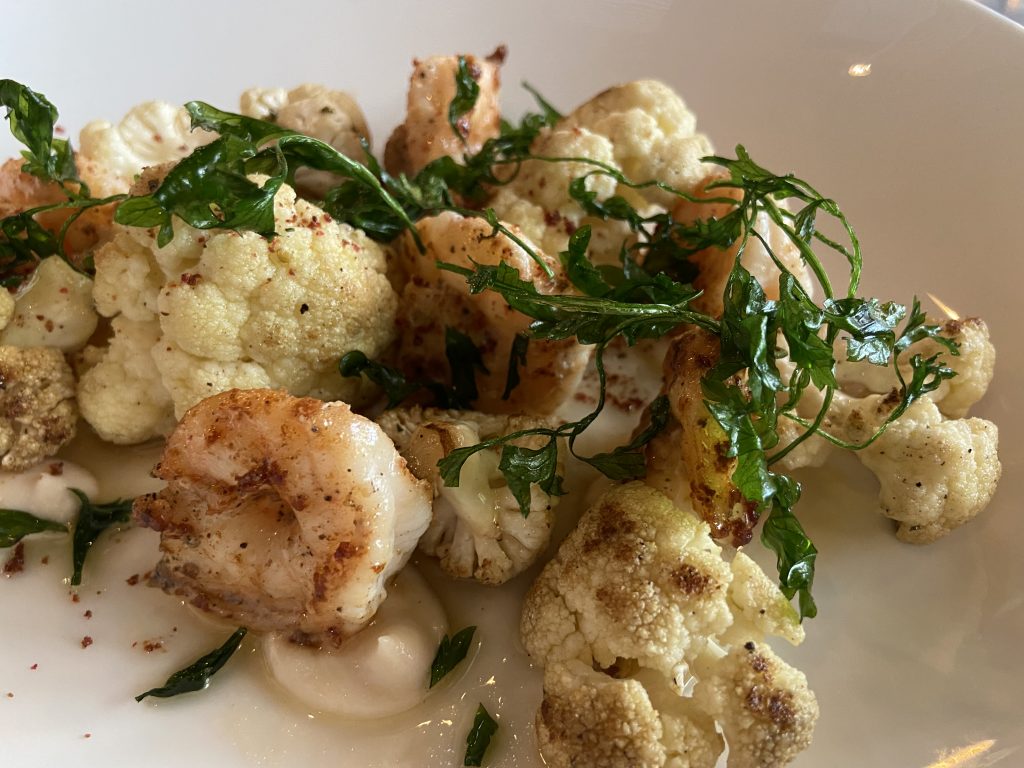 Third starter: Roasted King Oyster Mushroom
This has to be our least favourite starter. There are too much spices to our liking ,although the pomegranate does makes it sweet and helps a bit.
Next, moving on main courses:
First main course: Pan fried roasted seabass
This may look normal but it is our favourite main course. The hit with this is how the seabass is pan fried to perfection. The skin is crispy and the meat is juicy. Coupled with the sauce and vegetables, definitely our favourite dish for the day.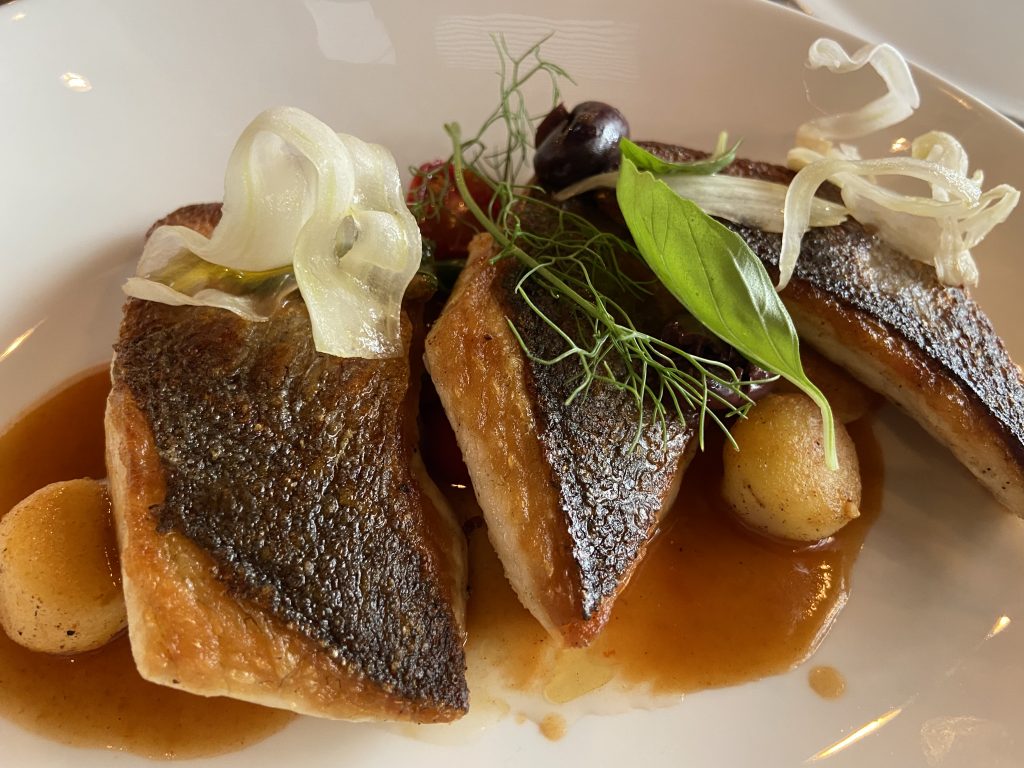 Second main course: Short Rib Beef Rendang
We had high expectation for this dishes but were quite disappointed as the rendang is not what we had expected. We had a hard time guessing the vegetable that were served with it, although we narrowed it down to green mango and Seng Kuang.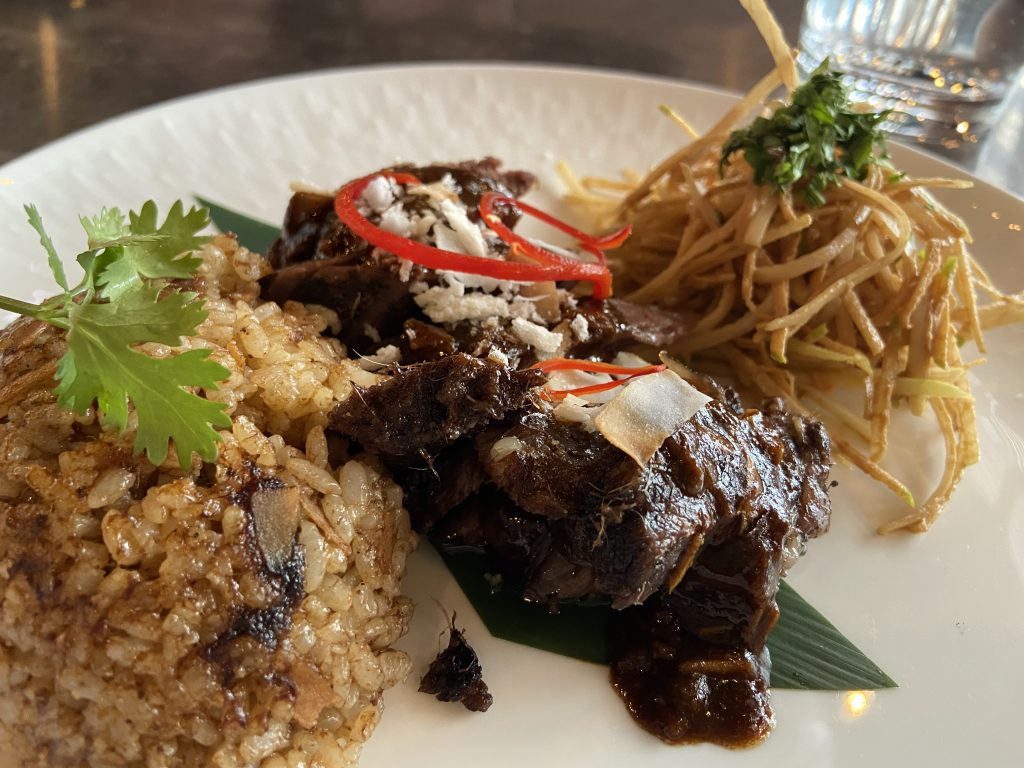 Third main course: Salmon Fillet and Mushy Green Bean
There is no surprise in this dish, nicely fried salmon, mushy peas. The only surprise was we were ask how well we would like our salmon cooked.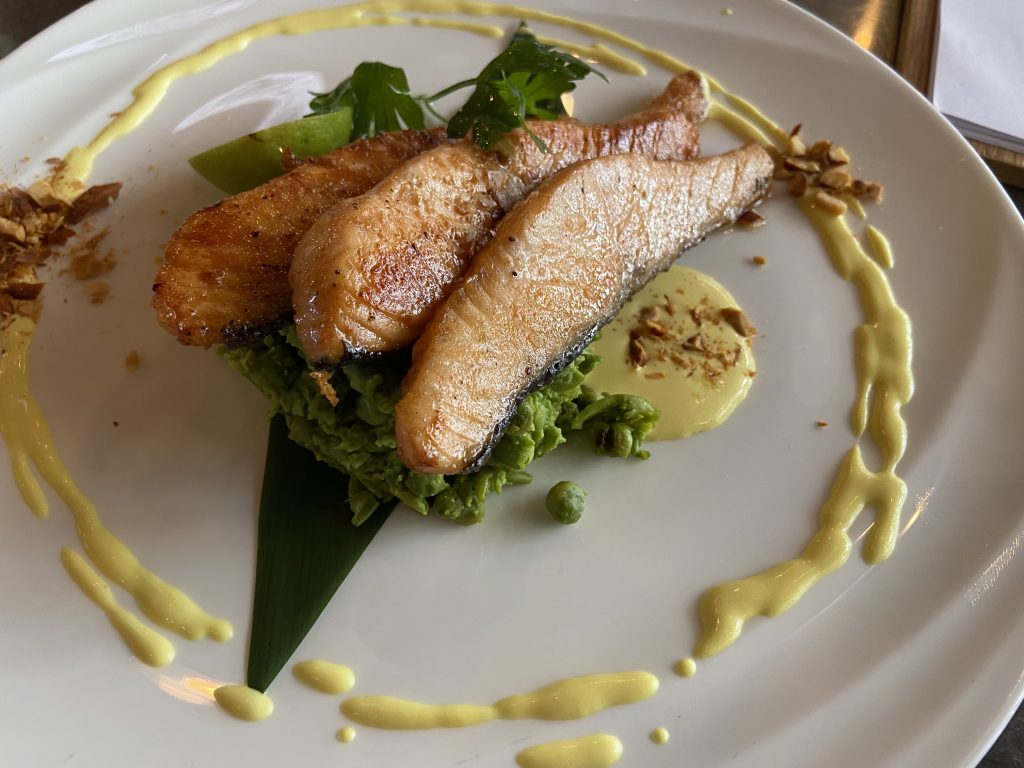 The final course, dessert… of course we had to end it with sweet endings..
First dessert: Whisky Chocolate Mousse
This is definitely a hit for us. The chocolate mousse are very nice and not too sweet, coupled with the baked honeycomb candy – I definitely name this the best dessert on the menu.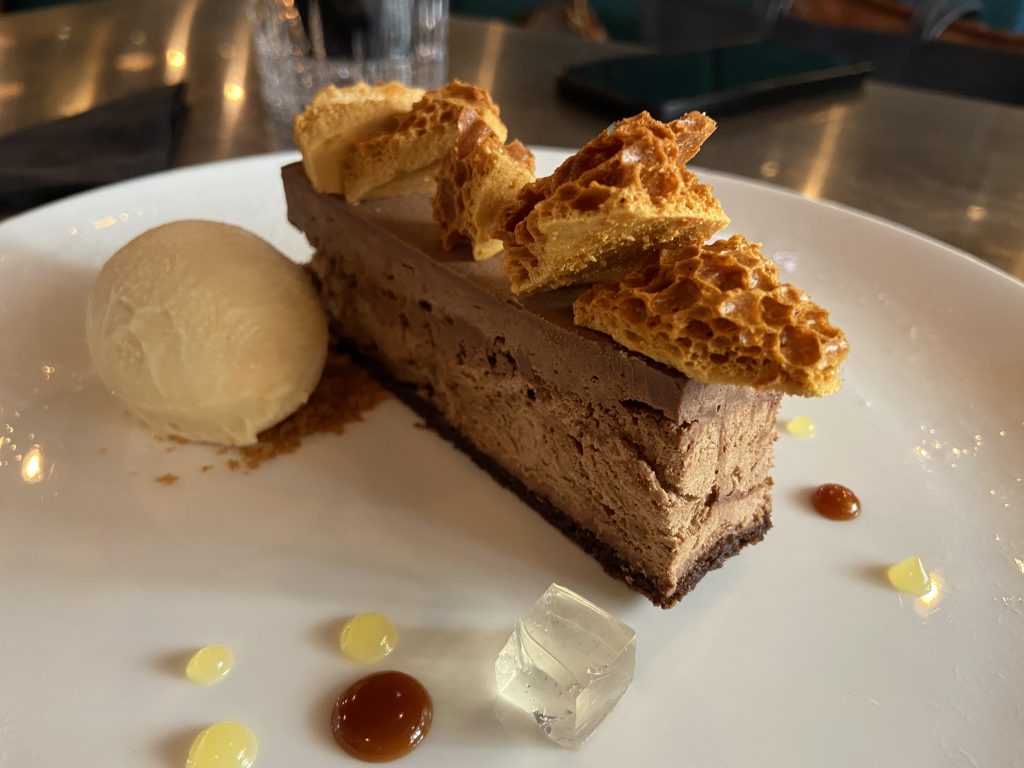 Second dessert: Hello Dollies
I had high expectation for this as I like Lotus biscuit but it disappoints. It is way too sweet and it seems that it had some shredded coconut that does not goes well overall with the concept of this dessert.
Third dessert: Frozen Yogurt Parfait
We are glad we tried this last as it is sour and refreshing, wonderful to end the meal.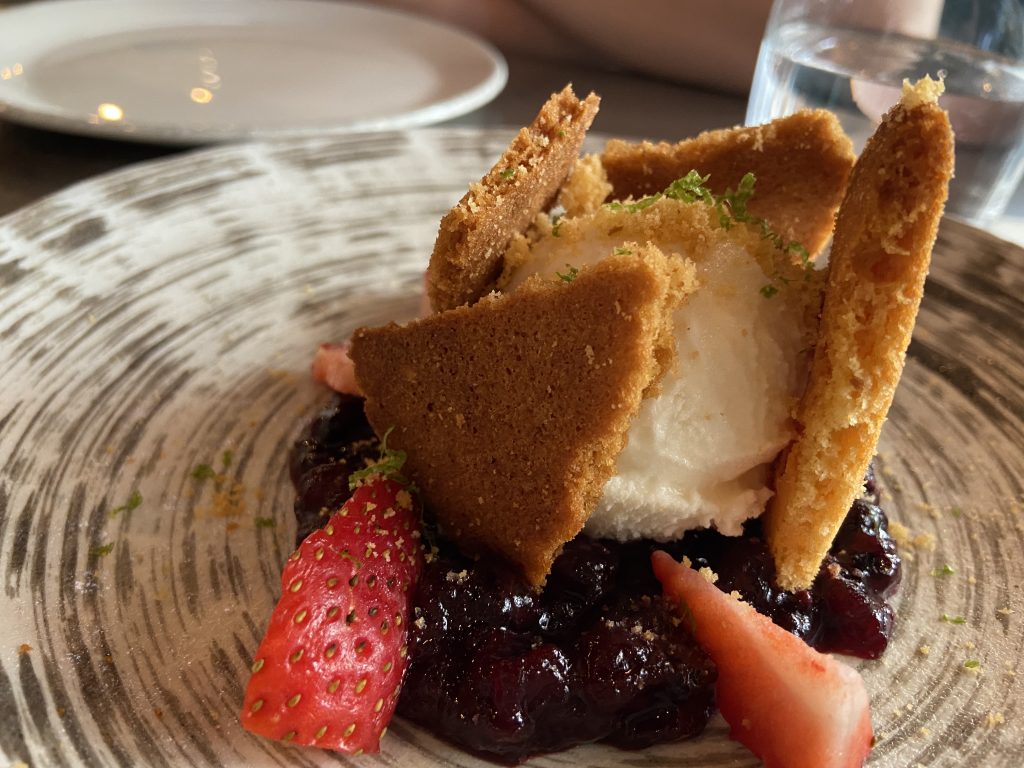 It was a great dining experience. Although the food had hit and misses, our overall experience was great. The staff is amazing and they takes time to explain to us about the food when the food is served, introduced us to some of their other special event – Mystery Box, Friday Brunch, Ladies night etc. We felt welcomed and valued as customer during our 2 hours there.
It is also a special occasion for us as our friend celebrating her birthday. MasterChef has kindly arranged for a complimentary cake and it makes her day.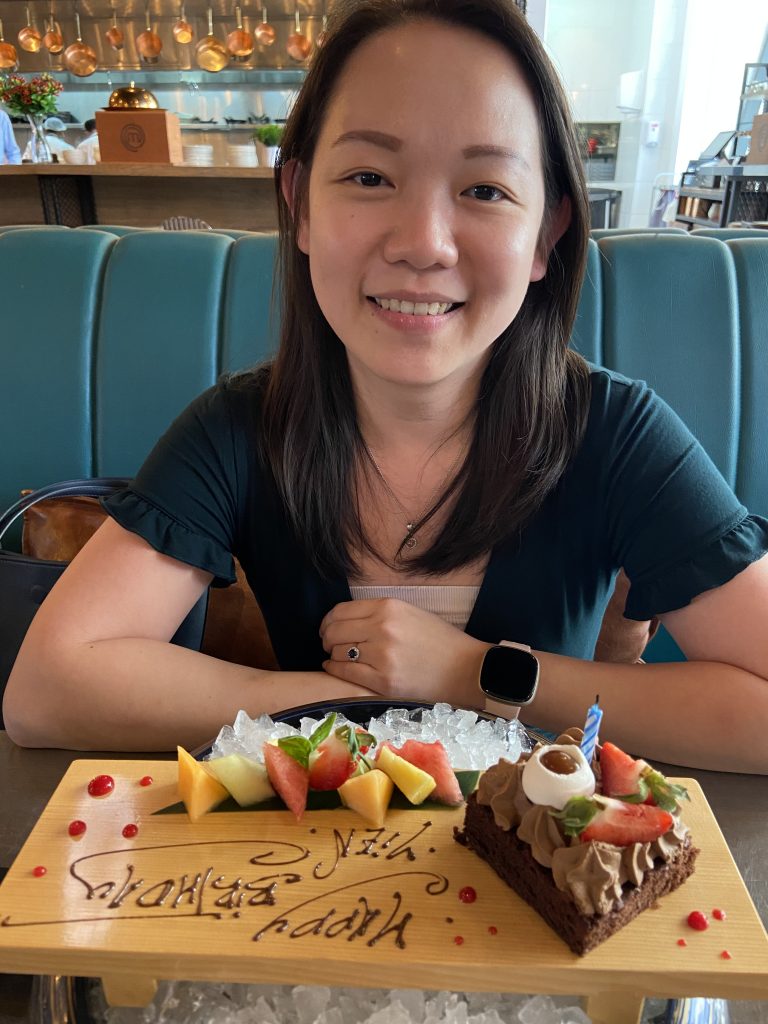 The manager told us that they changed their business lunch menu every 3 months so I am guessing another visit is in place… let's plan for another wonderful meal!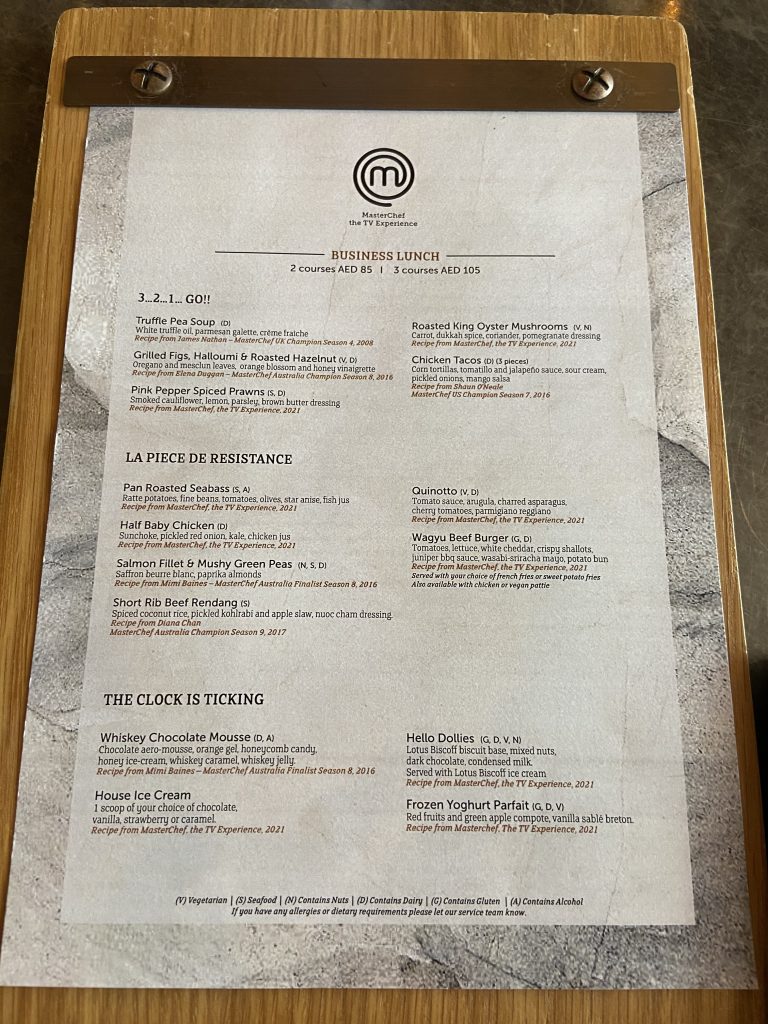 The business lunch are reasonably priced at AED 85 for two courses and AED 105 for 3 courses. The most amazing thing is on top of that, there is an additional 50% off the lunch menu for ladies.