Hi everyone! I am Justin, 7 years old and counting.
I know my sister has been complaining about how annoying I am but secretly, she LOVES me A LOT ….
….and I have PROOF!
LOOK AT THIS!!!!
Look at how happy she is , hugging me!
And if that is not enough! Take a look at this!
She is constantly showering me with her KISSES!!!!
YEAH, SHE LOVES ME. I can be sure of that!
Now, back to putting me in the spotlight. Did you know that I went for an overnight camp! It's probably the best night of my life! TOTALLY!
I have been begging my parents for the longest time for a sleepover at my BFF's house BUT THEY NEVER ALLOW ME TO DO SO!!!
I had so much fun the other day at Neel's house. Neel, Ayaan and me practically played the whole day from 10am to 7pm and we all wished it can be extended to a sleepover. UNFORTUNATELY, sleepover is not a word in my parent's dictionary!
So when my form teacher, Miss S told me that the school is having an overnight camp, can you imagine my excitement?!
My sister went for an overnight camp last year and she had been bragging to me about how nice is it and FINALLY after year's worth of waiting, it is my TURN!
The thought of getting pizza for dinner and having a warm hot chocolate marshmallow before bed time… Ahhhh, I just can't wait!
Miss S has been preparing us in class, with the what to do, what not to bring but nothing goes into my head because all I could dream of is who will I choose to sleep with me in the tent, how can I sneak in some snacks and what we can do to escape the teacher's vision so that we can stay up all night.
First thing first:
THE PACKING LIST
| | |
| --- | --- |
| Items | Notes |
| Sleeping bag | Definitely my Paw Patrol ones. It's super comfy! |
| Pillow | A pink one from my sister. Yuck! |
| PJs | My favourite Ben 10 PJs |
| Toothbrush/Toothpaste | Checked |
| Change of clothes next morning | Checked |
| Food | Not allowed. Seriously?! Where is the fun in that!!! |
| Mobile/Games | Also not allowed? WHAT?! |
| Small teddy | I am bringing my favourite Pengu! He sparkles, you know! |
| Book | Forget it, not my thing! |
| Torch | Erm maybe, if I can find one. |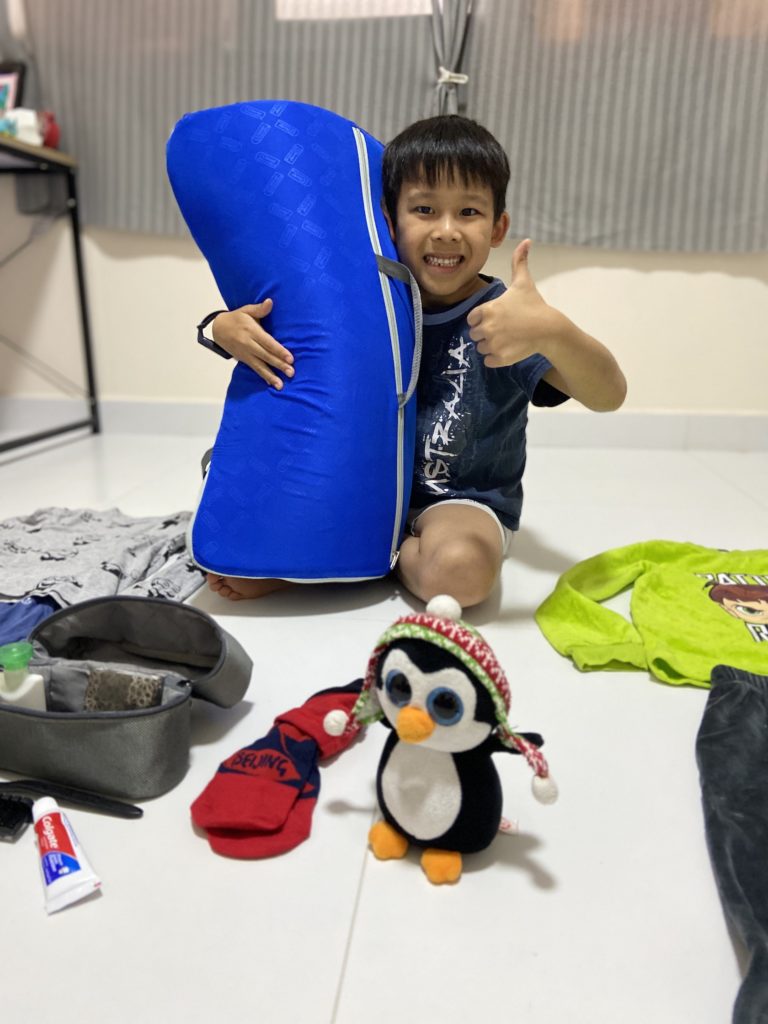 Despite all the excitement, secretly deep inside, I am praying really hard for more courage and strength. It is no doubt, my first night away from home. Shhh, don't tell my sister or she would laugh at me for being a coward-y boy.
---
On the morning of the camp day, I was feeling a little under the weather. So, mummy decided to let me sleep in 'cause she knows how important the camp is to me and I DEFINITELY didn't want to missed it.
When I appeared in school that evening for camp, my friend Varen is so funny. He thought I was absent because I am at home packing for the camp (THE WHOLE MORNING, SERIOUSLY?)
My best friend Ayaan didn't turn up until much later and I was so worried that he would miss the camp. Luckily he appeared just before we set up the tent. PHEW!
The camp is so fun and packed with amazing activities. We played TT Rock Star (Its actually a timetable game but sounds so cool right?), dodgeball and Just Dance.
My friend got scolded cause we were playing tag while everyone else dances. I can only blame it on his reaction time. It is way too slow, unlike me. When I saw the teacher looking my way, I quickly switch from tag mode to dance mode. Haha! Smart me, so I manage to escape the punishment!
I feel a bit stupid though, I believe Jaclyn when she said the hot chocolate is not good so I did not take my share. Then all of my friends said it was SOOO GOOD! Arghhh, I should not have believe Jaclyn, she doesn't even like anything chocolate!
One of my tent mates, Alex brought a Dino book and he read it to us for bedtime story. The tent is a little stuffy but nevertheless, I slept well or so I thought.
Mummy picked me up the next morning and I told her I slept well but when I got home, I fall asleep after my shower. I guess I did not sleep as well as I would have imagined!
23rd February 2020
This is an important date! Finally my first baby tooth dropped. It happened in school so my photo-ready mummy could not take a first hand photo.
It was so wiggly in class so I got send to the clinic and the nurse just twist it a little and it fell. My first baby teeth……
I am really happy that it dropped on its own. My dentist said if my teeth didn't fall off by this year, he would have to get an X-ray done for me to check what is wrong. Turns out nothing is wrong, I am just finally growing up now 🙂
Better late than never right?
Justin